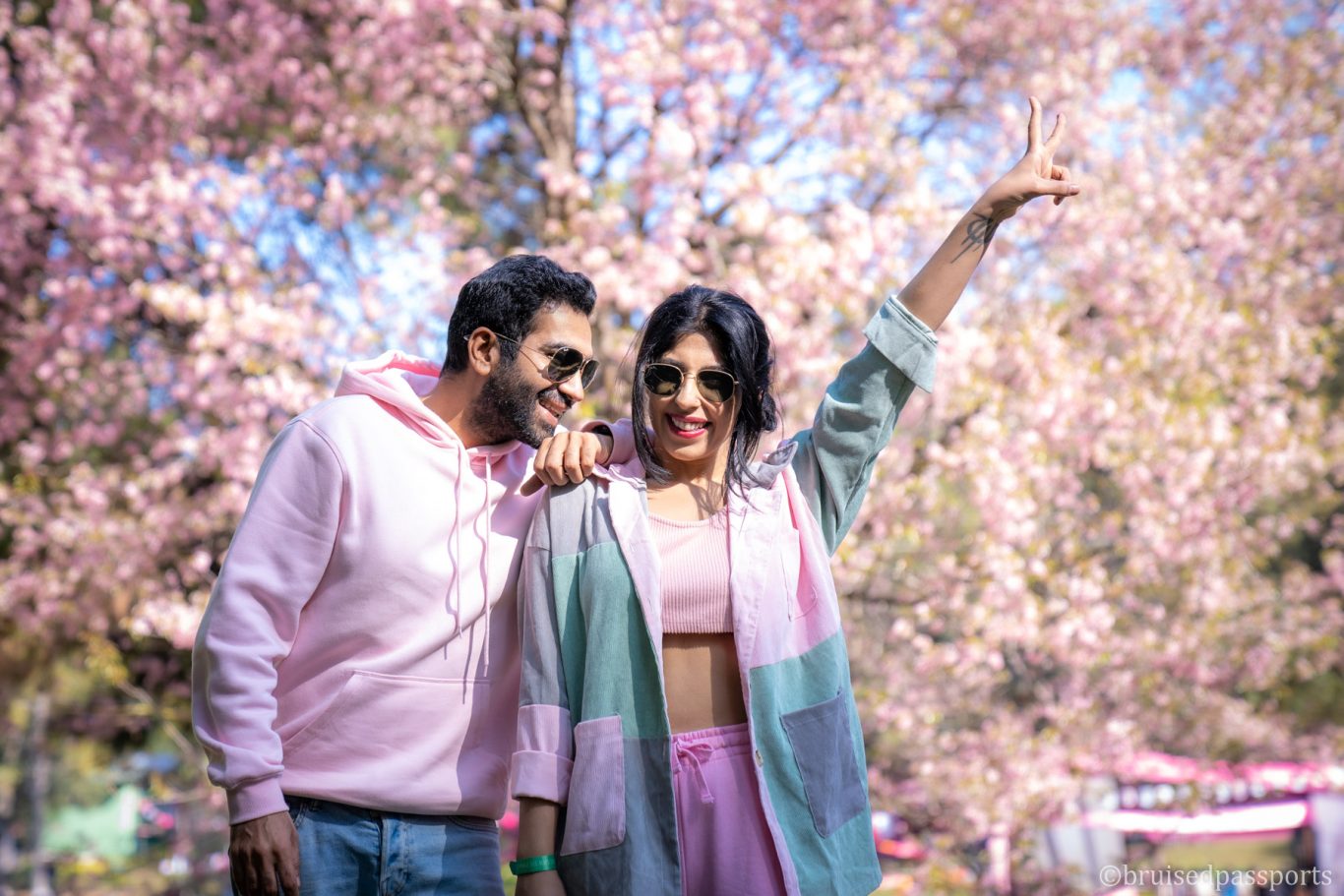 Bruised Passports
Meghalaya is a gem of North East India and there is so much to see and do in the state. We did not find any detailed articles before we visited, so we have attempted to include all the practical information we could in our article below. Here is how you can plan that PERFECT trip to Meghalaya.
How to get to Meghalaya
Getting to Meghalaya is quite straightforward. There are regular flights to Shillong Airport from most parts in the country. If you're not fully vaccinated, you must carry an RT-PCR test (taken within 72 hours prior to departure). This is checked upon arrival in Meghalaya.
Upon getting to Shillong, you can opt for a cab with a driver to get around in Meghalaya. Having a local driver comes in handy, especially if you're planning to go and visit the waterfalls and living root bridges, as Google Maps is not very reliable in Meghalaya and you might get lost if you're driving yourself. Having a cab with a driver will help with this – this costs b/w INR 3000 & 5500 per day depending on the car you rent and the places you are planning to visit.
When to go to Meghalaya
There is no correct answer to this as each season has its pros and cons, but if you have to choose, we would recommend visiting during monsoon months (July-October) as the state is at its greenest best at that time. This is also the best time to see the waterfalls.
However, if you want to go hiking or see the clear waters of River Umngot in Dawki (more information below) then winter months (November-January) are ideal.
Monsoon Season
Pros
Lush greenery and gushing waterfalls
Cons
Hiking is difficult and River Umngot will not be transparent
Winter Season
Pros
Cherry Blossom in bloom (November), good weather for Hiking, River Umngot is clear
Cons
Most waterfalls are dry
Where to stay in Meghalaya
Upon flying into Shillong Airport, head to Shillong city. Spend an evening exploring the city and sleep in a hotel that is centrally located such as Polo Towers Shillong.
Next morning you can leave for Sohra (Cherrapunji). Choose a nice resort here for 2-3 days as it is a good base for exploring most of the famous attractions in Meghalaya. Some good options are Polo Orchid Hotel and Jiva Resort.
What to pack for Meghalaya
In addition to your regular clothes and shoes, we would suggest packing the following items for your trip to Meghalaya
Itinerary for Meghalaya
Things to do and see
It is easy to explore Shillong in a day. Absorb the vibe of the city, visit the Cathedral, absorb views of the city from Shillong Peak, and drop by Dylan's café for a meal. If you're up for a drive, make sure you go to Laitlum Canyon for a drive at sunset. It boasts of gorgeous views.
If you're in Shillong during Cherry Blossom Season (November), then we would suggest visit Ward's Lake to enjoy the blooming cherry blossom trees and the Shillong Literary Festival. There are some huge trees, full of powdery pink flowers, here.
We visited Meghalaya during the Cherry Blossom bloom and attended quite a few amazing sessions at the Shillong Literary Festival.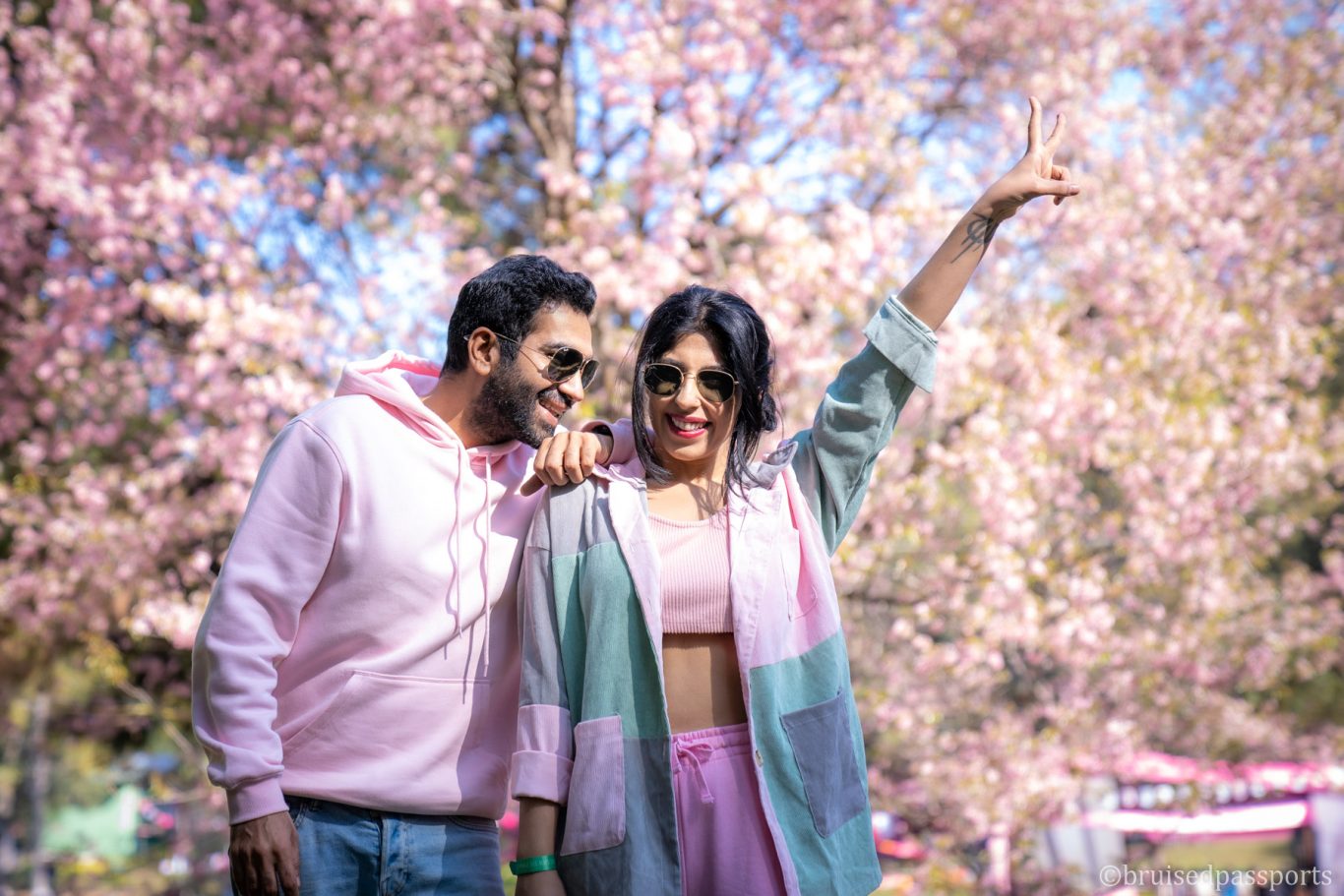 Cherrapunji, or Sohra as it is known in Meghalaya, is famous for being one of the wettest places on Earth. If you're in Meghalaya during monsoon season, you're in for such a treat on this drive. Lush green panoramas in the East Khasi Hills and suspended clouds are everywhere. On this drive, stop at Elephant Falls, Wakaba Falls, and Seven Sisters Waterfalls as you make your way to Cherrapunji.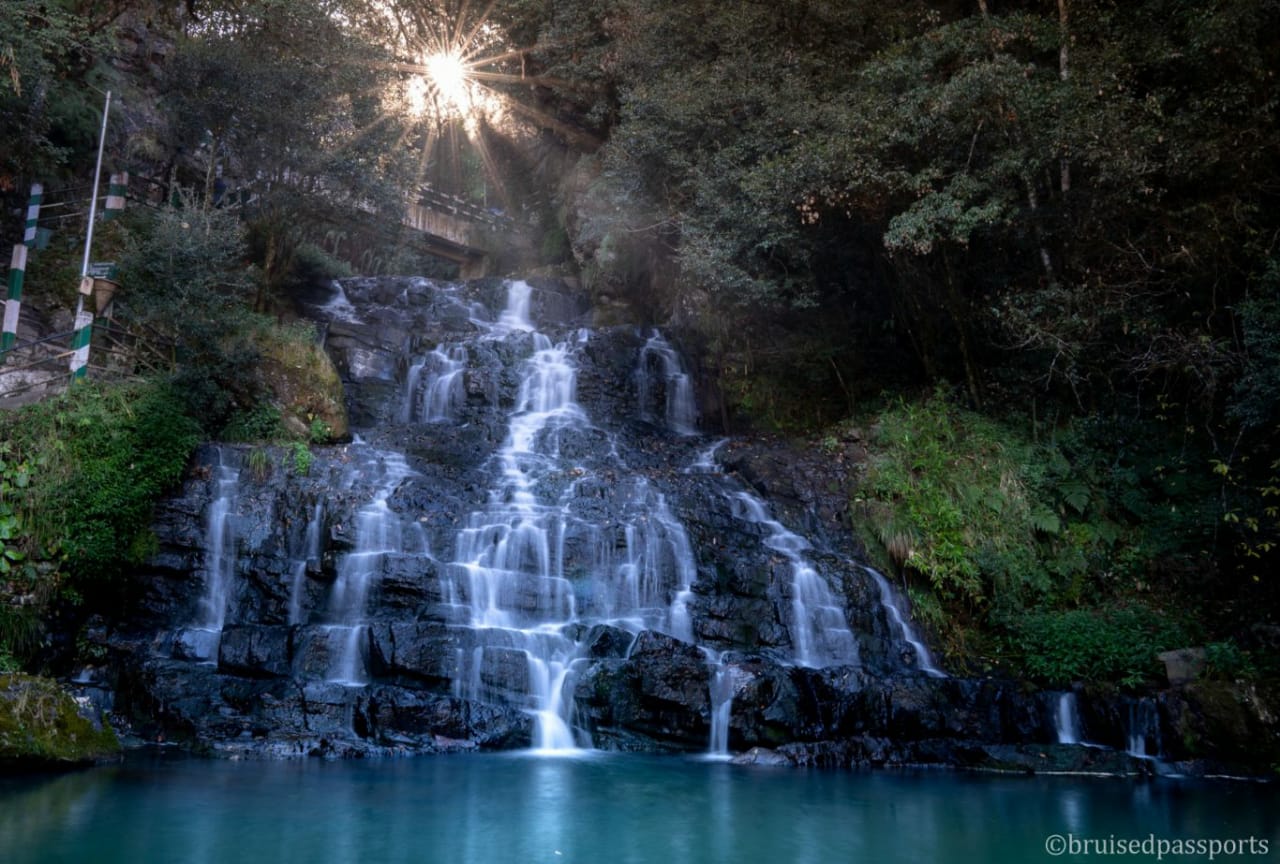 Cherrapunji is famous for its living roots bridges and there are many in the area. If you're up for an adventure, visit the Double Decker Root Bridge. This trek takes 8-10 hours and is approximately 8000 steps – about 3000 steps to the root bridge and an additional 1000 steps to the Rainbow Falls.
In case you're travelling with kids or just do not have a day to spare for this, you can also visit the another one of the living roots bridges – we suggest an easy walk to the living roots bridge near Mawlynnong, the cleanest village in Asia.
While you are in Cherrapunji you should also drive to Wei Sawdong Waterfall – the three tiered waterfall has the bluest water on a sunny day! We also recommend going to the view point from where you can see all the 3 tiers before hiking down to the pools of water. Make sure you wear comfortable shoes as the path is uneven.
Do not miss the iconic Nohkalikhai Waterfall. You can also trek to the bottom of the fall, but the view point which is reachable by car is one of the best Meghalaya has to offer. Legend has it that a woman named Likai jumped from the top of the cliff upon realizing she had unwittingly eaten her daughter, who was murdered and cooked by her stepfather. The lady's jump resulted in this waterfall – don't you find local folklore so fascinating?
On the fifth day of your trip in Meghalaya, make sure you drive to River Umngot in Dawki and visit Mawlynnong, the cleanest village in Asia. However, do keep in mind that River Umngot is like this between November & February. It will not be transparent during monsoon months.  Try to get there in the morning before most tourists make it to Dawki. The river is at its most beautiful on a sunny day – expect green and transparent waters. A 1-hour boat ride on the river costs around INR 1200. You can spend the morning here and start the drive back to Shillong.
On the way, you will also see the India-Bangladesh border and some other waterfalls such as Borphil Falls. Go for a gander in Mawlynnong village and visit the living roots bridge.
As you make your way back to Shillong and the airport, make sure you stop at Umiam Lake to drink in the views before boarding your flight back.
Extending your trip in Meghalaya
This 5 day itinerary is ideal for anyone who is planning a short trip to Meghalaya. However, if you are planning to spend longer in the state, here are a few experiences you can add onto your trip. Pick some based on your interests