Experience
'Into the Land of Wonders' (Nengkong area in South Garo Hills)
'Into the Land of Wonders'
Nengkong, is a name rarely heard in the Garo Hills tourism circuit, this village roughly lies about 7 kilometres from the Karukol village junction in Siju to the Baghmara main road. Nengkong is a peaceful community populated primarily by farmers and cultivators. It is also well-known for its deep limestone cave, Nengkong Cave or Tetengkol (cave of the dwarfs). Nengkong is located on the banks of the Chibe River, which joins the Rongdik River about 500 metres downstream. Nengkong village has highly fertile soil, which the residents take full advantage of by cultivating a range of vegetables and fruits. This village is known as the "Garo Hills' Vegetable Bowl." Nengkong lies further away from the main road, and the connecting roads are in poor condition.
Travel can take place from Baghmara to Nengkong via Karukol, then exit via the Tolegre-Siju or Emangre-Chokpot roads. All of these routes are open to 4×4 vehicles and motorcycles in the winter. Nengkong is approximately 25 kilometres from Baghmara and 7 kilometres from Emangre village.
Location : Nengkong Village, South Garo Hills.
Nearest town: Baghmara
Distance:201 km from Guwahati Airport.
284 km from Shillong Airport.
Duration of the experience: 2 days and 2 nights.
Experience Package Price: INR 12,000/-  for 2 nights for 6 pax (@ INR 1,000/-  per day per person)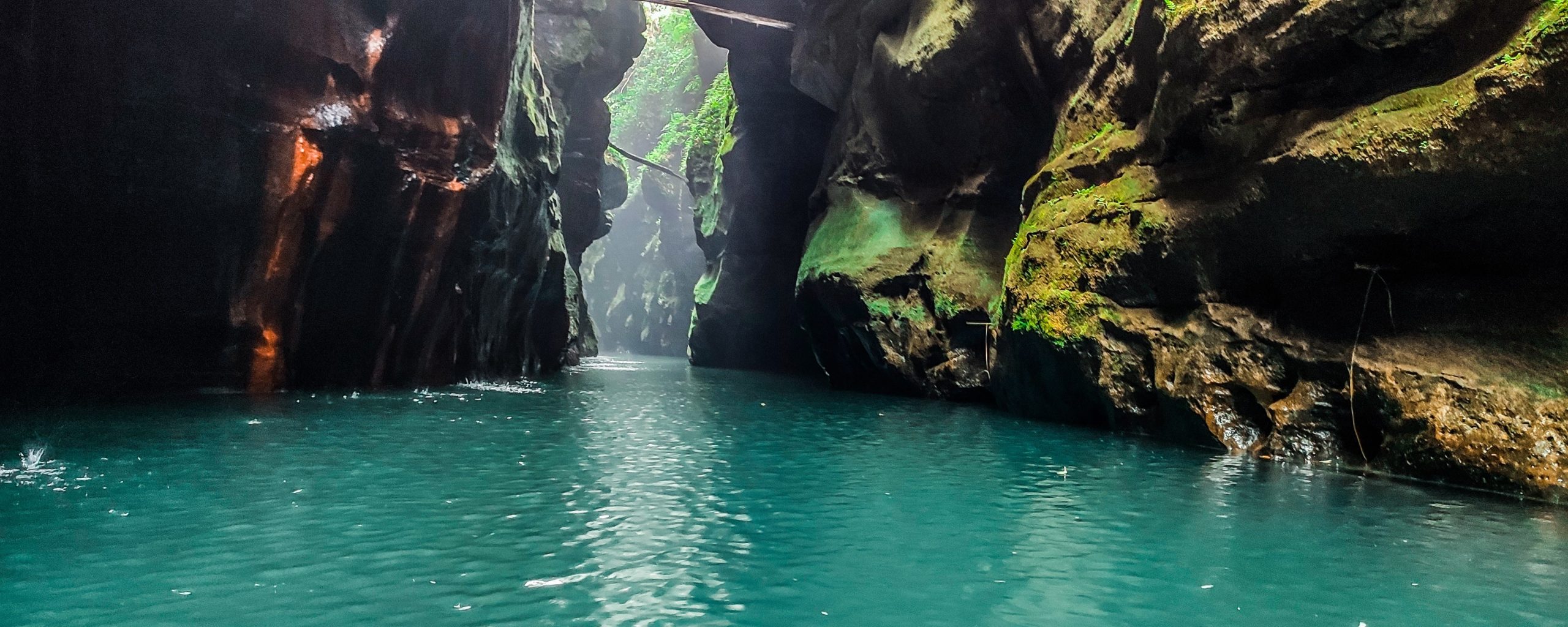 Cave exploration at Tetengkol, Nengkong Cave, Tiger Cave, Dikka A'kol / Dikka Cave and Balwakol / Balwa Cave.
Exploration of the Wari Chora canyon.
Trekking from Nengkong Cave to Chibe River.
Sightseeing at Chibe hot springs and Wakso Chimik. (Hot springs that are known to have healing properties)
Experience the agricultural process, gathering, and tasting the lovely organic veggies grown on the Chibe River's bank.
Tasting the pumpkins which are unique to Nengkong village since they are known for their exceptional taste.
Does the package include food and beverages: No
Fooding is extra INR 400/- per person per day (Breakfast, lunch, dinner and tea)
Nengkong market has several eateries / Dhaba-type rice hotels. If packaged food or takeaway is required, it can be arranged if informed in advance.
Number of guests: 6 pax (5 guests + 1 driver).
Hosted in which language: English and Hindi.
Best months(s) to visit: Nengkong is accessible all year round but activities may depend on the season and month of the year. The best time to visit is October to April.
Amenities/Facilities available:
A tent camping site can be arranged with special permission from the Headman and village committee at the appropriate location.
Beach and River view.
Boat ride.
Tourist guides.
Commitment to Safety: Safety is our number one priority and the well-being of the guests will not be compromised.
Name of the Accommodation Unit: Local homestays that are provided for by the community.
Name of the host: Chonseng R. Marak
Know your host: Shri Chonseng R. Marak comes from the village of Nengkong in the South Garo Hills District. He is the son of the Nengkong Nokma, or Village Headman of Nengkong. He was schooled at Tura and is also interested in tourism. When he was just a little boy, he took a bus from Tura to Khakija and walked approximately 9 kilometres to attend and hear about the Tourism Awareness Camp conducted by the A'chik Tourism Society (ATS) in Asakgre village. He is well-educated, as well as a passionate and experienced local guide.
Contact with the Host :
Phone No. : +91 9378047371